Kunal Puri L&S Biological Sciences
In-Vivo CRISPRa Screens to Identify Novel Regulators of Treg Migration
Multiple Sclerosis (MS) is an autoimmune disease of the central nervous system (CNS), characterized by the infiltration of inflammatory immune cells into the CNS, leading to destruction of myelin sheaths of the nerves and subsequent development of lesions along the brain and spinal cord. Patients with MS are subject to cognitive and muscular dysfunctions that detrimentally progress overtime leading to debilitating loss of basic human functions. Treatments for MS are currently still limited in action and not comprehensive enough to provide definitive care towards effectively addressing MS. 
During MS, activated and differentiated myelin-reactive CD4+ T cells (T-regulatory cells [Tregs] & T-effector cells]) migrate across the blood-brain barrier and initiate immune responses against the CNS (an immune privileged site). The action of T effectors in the CNS result in neuroinflammatory manifestations which drive Tregs into the CNS to suppress inflammation. However, recent studies have suggested impaired functioning of Tregs derived from MS patients. Additionally, mechanisms that drive immunosuppression as well as transmigration of CD4+ cells into the CNS remain poorly understood. In the lab, we have generated data showing that T regulatory cell kinetics entering the CNS differ substantially from T effector cells. My proposal looks to investigate, define, and document gene programs responsible for the migration of Tregs into the CNS using the animal model of MS, experimental autoimmune encephalomyelitis (EAE). Through this EAE model, I will perform a pooled in vivo CRISPR activation screen to determine critical positive and negative regulators of Treg migration into the CNS. This project serves as an exciting entry point into potential breakthroughs for the reprogrammability of Tregs for immunotherapy.
Message To Sponsor
Thank you so much for your generosity and enabling students like me to not only continue pursuing our passions through research, but also supporting our current and future endeavors! It is incredibly kind and I am very grateful for the opportunity to continuing pursuing my work and pushing science forward over this next summer and beyond!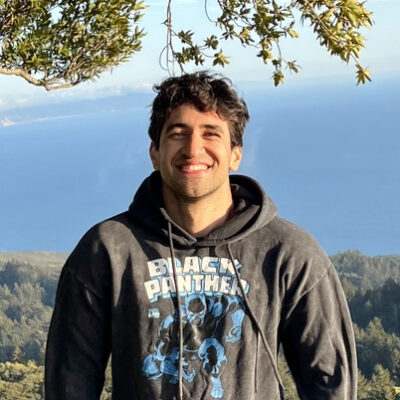 Major: Molecular & Cell Biology (Emphasis in Immunology & Pathogenesis); Minors in Data Science and Bioengineering
Mentor: Alexander Marson
Sponsor: Shin Morgan Fund